Adventure Places In India
To describe adventure places in India is the main focus of this article. Yes you are right. Today I'm talking about the people who want to take challenges in real life and they love danger. Yes, many people who has weak heart who sit all day long in the bedroom. But as here I am talking about the the best adventure places in India, some people feel it is very interesting. They are thrilling to know where are the adventure places in India. Sum of of my readers may grow older in age but don't get upset. Because our mind has no age and our courage and will have no age too. Once you will start your journey you will find it as the most thrilling journey in your life. So, let's check out the top 10 adventure places in India.
10.Kayaking in Aguada Mangroves
My dear friends, you are here to adventure in India. Now Goa is a very well known name for Indians for a holiday trip. But the main important site for a great adventure trip in India I am telling you now. If you go to Goa and do not perform kayaking then your adventure will surely be an incomplete one. When you are doing kayaking you can get the beauty of the edges and the the small boat running itself by wandering alone in cool water of the river. Not but the least you can explore the Great Aguada mangrove by paddling. In high tide you will get the best experience in kayaking in Aguada river.
Directions
The suitable month for kayaking is between October and May. Now Aguada is only 30 km far from Dabolim National Airport.
9. Skydiving in Mysore
Mysore is one of the most adventurous places in India. Skydiving in Mysore is one of the most attraction for adventure. So friends all I am talking about the dangerous skydiving in Mysore. From the airplane a number of small trainers are taken with the help of parachute from the height of 6000 to 10000 feet in case of skydiving. Now obviously no one will jump in the water without knowing how to swim. So the overall things have arranged previously. And before the training the Travellers are taught how to jump. So it sounds dangerous you know but once you adopt it is also the most exciting work in the world.
Skydiving in Mysore cost
The price for Skydiving in Mysore is starting at INR 35,000 per person. Obviously the rate depends upon the the different type of requirements and also based on the need of traveller.
8. Surfing in Goa
Surfing in Goa is one of the the best Adventures in India. And a funny thing that you can do banana surfing. As the name suggest it is of the shape of a banana. Some of the people love water and sports. So they will definitely get so much fun by Surfing. In a blue waters of Goa in the silent beach, you can't imagine how much pleasure you will get by surfing. Because the board goes higher on the Waves when returning to the shore. So make room for Goa for a rainy season and travel to Goa and enjoy banana surfing.
7. Hot Air Balloon Jaipur
So many people may have made their journey through air but would never be sitting in the hot air balloon. So now I am telling you will get so much fun in hot air balloon ride in Jaipur between November and June. When the hot balloon is flying in the sky with the help of the wind only, then you will get the following things.
1.The thrill of the city of Jaipur
2. Aravali Hills around and
3. The desert spread around.
It's really impossible without the hot balloon. In addition, you can enjoy it with your whole family because it is is not dangerous but exciting.
Hot air balloon Jaipur price
The price for hot air balloon ride in Jaipur vary from child to adult. The price ranges from Rs. 7,500 to Rs. 12,000 per person(adult). More importantly the hot air balloon ride in Jaipur depends upon the current weather condition. You may get cheapest hot air balloon ride in jaipur from well-known SkyWaltz company. But before ride or choosing a company, verify the details.
6.Skiing in Gulmarg
Hello dear readers I know some of you must fond of skiing. And always have a dream to find a good place and get the chance to ski. So today I am telling you guys for ski lovers 'Heaven of the Earth' is in Gulmarg. The more exciting thing is Gulmarg Heli ski service. You will get complete ski experience after doing Heli ski in Gulmarg. Because heliski opens up about so many untouched areas including the world's most famous mountain range.
Directions It is only 50 km away from Srinagar airport. The skiing end is at an altitude of 4000m. Tn addition, you will get access to the Gondola service, numerous alpines, chutes, cornices and glaceries.
Best time Between April and December this year.
5. Manali to Leh on Bike
Dudes if you are ok with motorbike then you will definitely enjoy life on this track. You can also perform Manali to Leh cycling tour. Now, Manali to Leh distance by bike is about 500 km and it is 11500 thousand feet above sea level. you will get so much wonderful views between the snow covered mountains.You will get the joy of the picnic along the lake.In addition, the beauty of the nature, freezing air and arbitrary motion on the empty road will give you a lifetime, unforgettable experience. The proper time to arrive here is between July to September. So make your bike ready and start the trip in July.
4. Ladakh Trek
In my opinion it is one of the best adventures in India if you go to Ladakh Trek. If you have a strong will, then definitely go. This Ladakh trekking will boost your confidence hundred times. Now I am going to describe you briefly about the the seven wonderful trekking treks in Leh Ladakh.
Name
Altitude
Duration(Days)
Best Time
(For The Trek)
7. Snow Leopard Trek
3000 m
13
January to
February
6. Frozen River Trek
Chadar
3390 m
9
January(mid)
to February(end)
5. Sham Valley Trek
3750 m
5-7
May to October
4. Gompa Trek
4300 m
5-6
June(mid) to
September (end)
3. Ripchar Valley Trek
4300 m
5
July to September
2. Kharnak Trek
4600 m
16
May to September
1. Markha Valley Trek
5200 m
11
June to October
3. Jim Corbett National Park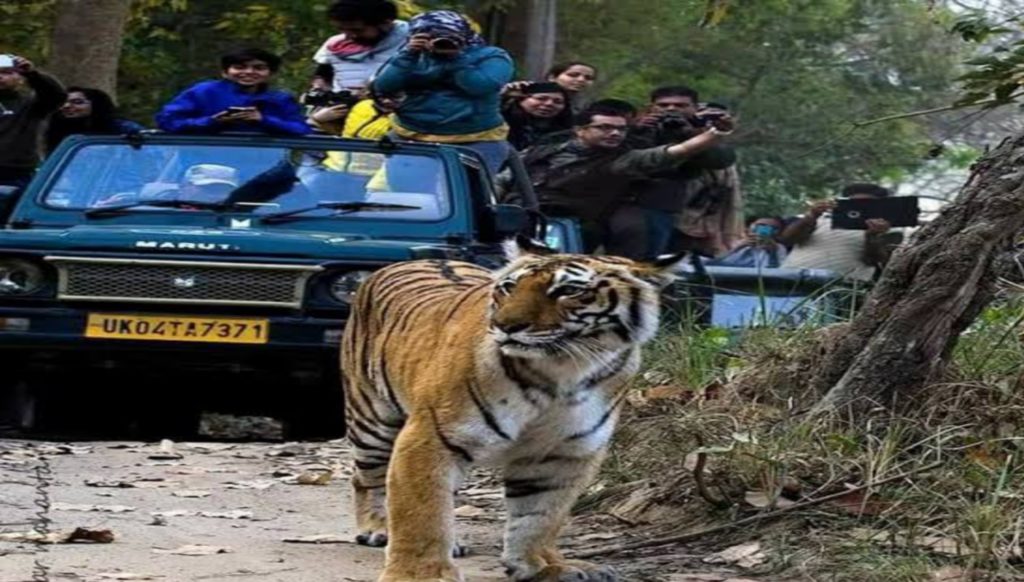 Jim Corbett National Park is a one of the most adventurous places in India. But it is one of the dangerous places in India as you will get to see Bengal Tiger, Deer,Indian Hog Deer, Sambar deer, Yellow throated Marten, otter, Pallas's Fish Eagle etc. It is a huge place as from Bihar, UP or Uttrakhand you can get the facility to you observe the park. As a tip you can walk through open Jeep to face the dangerous threats so that the fear from children's mind vanished. If no animals are teased then they will not pay attention to you. The name of the park is Jim Corbett National Park for giving the honour of Jim Corbett. Many of the people also called it as Jim Corbett Safari. Corbett Resorts resorts are also available here. .
Proper time
October to June. You can go with your family.
2.River Rafting In Rishikesh
I am here to help you to find adventure places in India.Rishikesh is one of the adventurous place to visit in India. You will find it thrilling by doing river rafting in Rishikesh. The main reason is the holy water of the Ganges. In addition, due to the collision of rocks, a lot of white fans produced. You will feel the danger of falling every now and then. Moreover the Himalayas Salt Lamps and the Green Hills create an outstanding environment. Mistakenly you will think this as a Paradise. But don't raft yourself without any expert one because you will reach the real Paradise soon. But I don't want this. You can reach anytime here but do not arrive in the rain. You can call it white river rafting as a lot of white fans produced.
1.Scuba Diving In Andaman
Port Blair in Andaman is a great spot for honeymoon. You know actually there are two paths for you to arrive Port Blair. You can reach there by airplane from the big city. Secondly, if you want to enjoy the sail or cruise then you can reach there by ship from Kolkata to Vizag or Chennai.
Just love the adventures of Scuba Diving in Andaman on an island of Havelock, Clink or a Passage. Also, observe sea coral reef in Andaman. No doubt the Scorpion will be rescued from fish, sharks and octopus but don't get afraid. Your security will be taken care of properly by the travel agency. When you will come home, deliver this mysterious story to your friends and family.

Hi friends, how is this article? Please,comment and share this article. And stay tuned with www.365reporter.com and follow us on Facebook, Twitter and Pinterest.